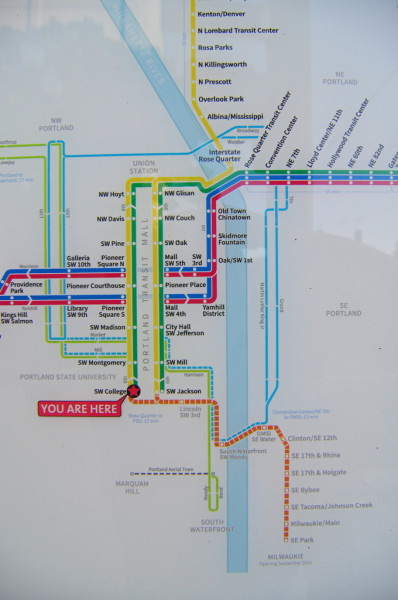 I was out walking downtown this weekend when I noticed that Trimet has updated the rail system map to include the pending Orange Line route. I snapped a photo with my camera and while the news is nothing worth getting excited over, it does provide some changes to the existing map that make different regions a bit more clear.
Included on the map is also the closed loop of the Portland Streetcar Central Loop. Both routes are shown as "future service" and while the CL line future service is not in doubt, the new map answers no questions about future Orange & Yellow line service. Where will the Orange Line end on the north end of the route? Will the Yellow Line extend further south as some of the new platforms indicate?
The new maps provide no answers to these questions. I'm left wondering why Trimet went to the trouble of producing new maps that will be obsolete a year from now.
The appearance of the new map coincides with this morning's first test of the Orange Line though which, when taken together, represent some visible forward momentum in the downtown area where the Orange Line is concerned.