Portland Transport Freeway Fund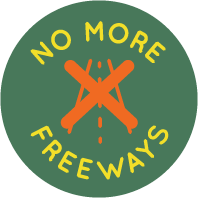 Portland Transport is serving as fiscal agent for "No More Freeway Expansions", a campaign to prevent counterproductive spending on freeway expansions in the Portland Metro area. Donations to the Freeway Fund will be used on this campaign and are tax-deductible.
Include your mailing address to get one of our signature No More Freeways buttons!
If you'd prefer to do it the old-fashioned way and send us a check, drop us a line at webmaster@portlandtransport.com and we'll give you an address where you can send the pieces of paper.
Thanks!
P.S. Portland Transport's tax id number is 20-3650405