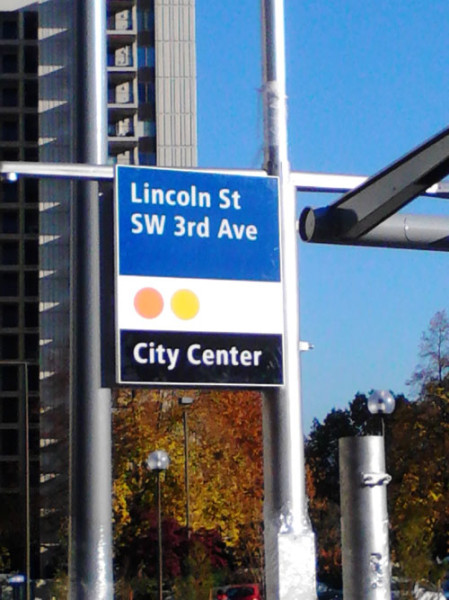 Guest contributor David Brandt is a regular reader.
Earlier this year there was discussion on this blog about how TriMet would designate and serve the new Portland-Milwaukie Light Rail line (see "TriMet Confirms That Orange Line Will Go Through Downtown After All, But Details Still Unclear, April 17, 2013″). A clue has recently appeared that might shed some light on TriMet's plans.
At the SW Lincoln St. station still under construction, signage has appeared that would indicated that the station will be served by BOTH orange line trains and yellow line trains. The sign has the station name (SW Lincoln & SW 3rd), line direction for the platform (City Center) and an orange dot and a yellow dot indicating service by two lines. If this is the case, there are some interesting possibilities as to how TriMet might schedule service on the line.
One possibility would be for half of the yellow southbound trains to terminate at PSU and the other half to continue south to Milwaukie. Those terminating at PSU could then loop around and become orange trains filling in the other half of the schedule to and from Milwaukie. A variation on this would be for a train to start as yellow at Expo Center, travel through city center and on to Milwaukie, change to orange and travel back to Union Station and returning to Milwaukie as orange, and then finally returning to Expo Center as Yellow. Or maybe they will all operate as yellow trains straight down the line with some changing colors on the southern half as suggested earlier in the year.
Any other ideas on what might be up TriMet's sleeves?