One of my fondest memories of childhood was a much-planned, much-saved-for family vacation to Europe in my early teen years. One of the seven-countries-in-21-days destinations was Venice and I can't forget the Vaporettos (water taxi/buses) that plied the canal system. Correspondent Bill Badrick fills us in on a vision for Vaporettos in Portland. – Chris
Portland 'VAP' Water Taxi Vaporetto Service
Broad Scope Objectives:
To provide a regularly-scheduled affordable Water Taxi local trip service in the central Portland and Willamette River areas linking North/South and East/West communities.
To provide a significant enhancement for entertainment, convention and tourismbusiness and cultural activities by providing a venue for positively experiencing the City of Portland.
To provide revitalization to existing waterfront communities and locales, and to spur redevelopment of properties and facilities along the Willamette river-front.
To link Parks and Recreation Areas all along the river-front to local and regional communities by accessible water craft service, running from Sellwood / Oaks Park to Kelly Point Park / Sauvie Island.
To provide an alternative economic form of daily travel and commuting to alleviate congestion, parking and local environmental impacts on the central city.
To enhance the bicycle and pedestrian networks by developing multi-modal overlapping travel and recreation functionalities.
To create opportunities to build connections to other regional centers from Lake Oswego and Oregon City to Vancouver, Washington.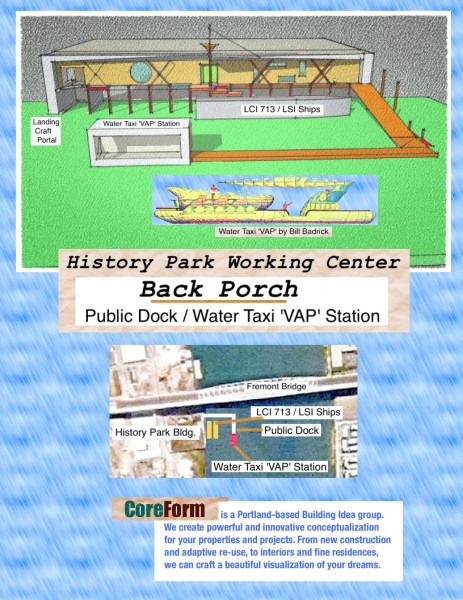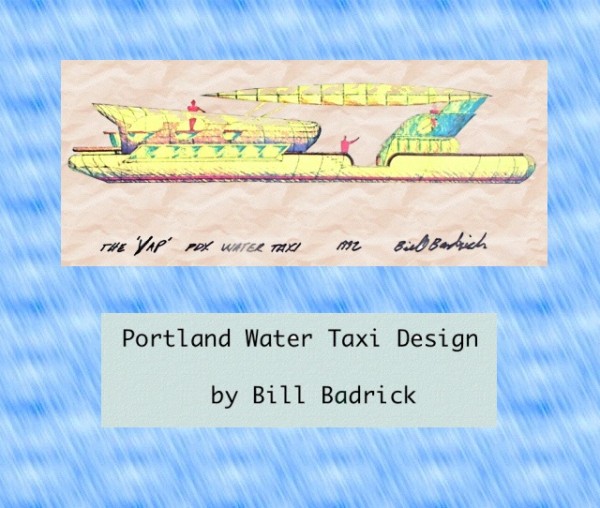 About the History Collection Park 'Working Center':
We are a 501c3 Corp. that is working to create a new 'Community Model' facility. We have a 77,000sf. historic dock building on the Willamette River in downtown Portland that is being donated to our cause. Our Vision is to develop a Working History Park.
It will be a place for community groups to come, free of charge, and showcase the  craft, skill, and work they do and did. We see this as a model for people across the country and the world. We picture Native Americans weaving baskets and carving totems, culinary experts cooking up historic recipes for events, boat builders rigging up small sailing ships, weavers spinning yarn and making garments, and on and on. Each of our groups will display their history, but also live it right there day in day out.
The roof of the building will be turned into a huge grassy park right up above the river. Our dock will become a public way-stop for canoe, kayak, and the dragon boats.
We will host the 154 foot LCI 713 as it is being restored and offered for tours daily.
We have a design ready for a water taxi that can serve the whole city waterfront.