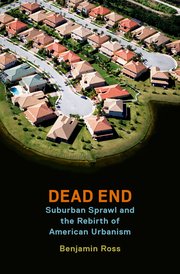 I'm in the middle of reading Benjamin Ross', "Dead End: Suburban Sprawl and the Rebirth of American Urbanism"
Did you know that the evolutionary path of suburbs went from the Streetcar suburb (which became inner-ring neighborhoods in many cities, including Portland) to the Railroad suburb, very separate from its city, which in turn became the template for the auto suburb? Here's a great quote describing the Country Club District in Kansas City that teaches us why so many suburbs lack sidewalks…
… subdivisions intentionally discouraged walking so that buyers would feel insulated from the city. Blocks were enlarged and sidewalks shrunk; by 1921 pedestrians were rare enough in the more affluent sections that sidewalks could be eliminated there entirely.
I'm looking forward to getting to the part where we turn that around!
I'm delighted that Portland Transport is able to join with 1000 Friends of Oregon and Oregon Walks to sponsor a presentation by the author at Powell's Books on Hawthorne Monday night (May 5th) at 7:30.
When: Monday, May 5, 7:30-9:00 PM
Where: Powell's Books on Hawthorne, 3723 SE Hawthorne Blvd., Portland
I hope that you can join me there!