One of my favorite ways to start the day is a brisk bike ride to breakfast (I love breakfast sandwiches and wraps – feel free to forward recommendations). One morning this week I headed out to check out the new Roman Candle Baking Co. on Division (five stars – killer granola bowl!).
On my approach, the first thing I noticed was no parking staples on the sidewalk. But then I saw the bike parking in the parking lot.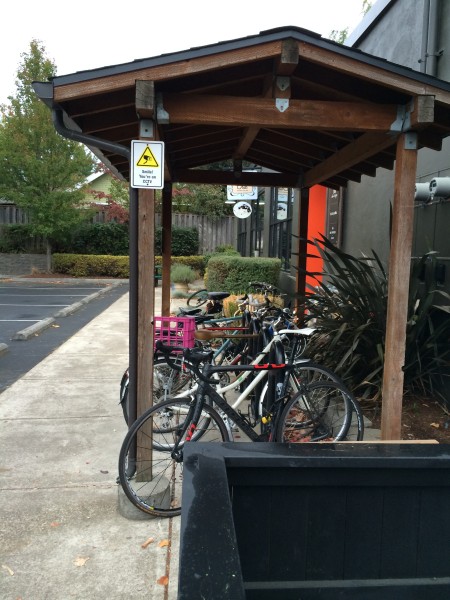 There was beautiful covered bike parking! And a sign indicating video surveillance! (Actually, based on other signs the entire parking lot area was monitored.)
But then I was disappointed to discover the covered parking was already full…
The total bike parking picture was a covered wave rack for five bikes (BTW – wave racks were generally disdained at our wonk night) and another uncovered wave rack for three bikes next to it (where I parked). A bit further down, adjacent to the entrance to the next business, there was another uncovered 5-bike wave rack.
Here's the puzzle – at 8am there weren't enough customers in the bakery to have filled up the covered parking. So either folks not using that particular building are squatting there (tempting), or (more likely – and someone let me know if I'm wrong) the covered parking is being taken up by the employees of the bakery.
Now I'm not saying employees deserve lower class bike parking (indeed, their security needs may be higher), but this reminds me exactly of the phenomenon I encountered in the auto parking debates in NW Portland. Business owners would complain about a lack of on-street parking for their customers, but would then allow the employees (and sometimes the owner him/herself) to take up the parking spaces near the entrance of the business.
It would have been great if ALL the bike parking on the site had been built to the same higher standard. And while I might not want to relegate employees to a lower class of parking, it's perfectly fair to put employee parking further from the entrance – employees will be there all day, they can walk a little bit. In this case, there's an area at the back of the parking lot (also under video monitoring) that would be perfect for some covered staples for employees.
But if you're going to be putting premium parking right by your entrance, you really want to manage it for use by customers – that's just good business!